Part of our overall mission statement is to build a lasting relationship with our community. Recycling has a tremendous impact on our local communities and our planet.
The Benefits of Recycling
Recycling saves Natural Resources

Recycling saves Energy

Recycling saves our Environment

Recycling adds value to Colorado's Economy
HOW DO WE DO IT AT OL OFFICE?

Since our start in 1985, we have calculated that we have sold over 35 million pounds of used office furniture. The calculation process was tiresome, tedious and sometimes dirty as we dug through decade's worth of sales invoices and product catalogues to determine the pound per revenue dollar ratio. All in all, it took us several months to come up with a total pounds figure we were confident enough with to share with you. We are extremely proud of this number. Going forward, we will proactively tally the weight on a monthly basis.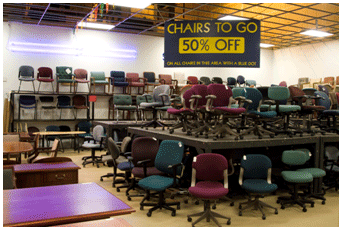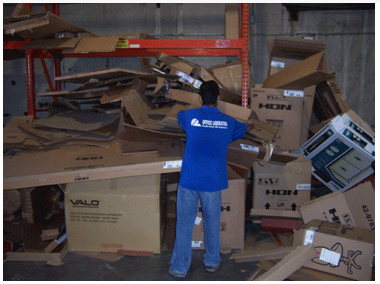 We recycle cardboard
Office Liquidators firmly believes in recycling whenever possible. As the largest HON dealer in the Rocky Mountain region, we receive an average of six (6) tractor-trailer loads of furniture on a weekly basis. Though HON and several of our other manufacturers firmly believe in the Green Concept, it is inevitable that there will be considerable packing material. Office Liquidators recycles 100% of all its cardboard. This results in recycling approximately 140,000 pounds of cardboard annually.
We recycle scrap metal.
As part of our operations we take in on trade thousands of metal desks, files, bookcases and cubicles that simply cannot be resold. These items are broken down for usable parts and then we take the time to strip off metal items so they can be recycled.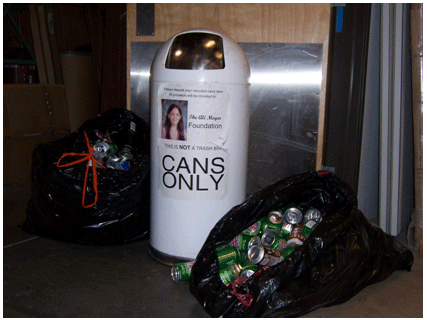 We collect and recycle aluminum cans
We have set up aluminum recycle stations in our store and warehouse in order to collect the cans from our vending machines. Additionally we encourage those employees who don't have access to a recycle program where they live to bring their cans to work. All proceeds from these efforts go to The Ali Meyer Foundation. The Ali Meyer Foundation donates 100% of its charitable contributions directly to Children's Hospital Colorado where it is used for rehabilitation equipment for needy patients. For more information about The Ali Meyer Foundation, please visit the website at www.alimeyer.org.
What can you do?
Consider integrating used office furniture into your capital budgets
Think about using modular office furniture
Trade or donate your old office furniture
Partners in our Green Effort
Office Liquidators is continually attempts to partner with Manufacturers that are committed to conducting their operations in an environmentally conscientious manner. Some of our partners are (click on the logos to learn more).
Hours
Mon - Fri: 8:30 - 5:30
Saturday: 10:00 - 5:00
Closed on Sundays
Contact
11111 W. 6th Ave
Denver, CO 80215
(303) 759-3375
(800) 279-3375
sales@OLoffice.com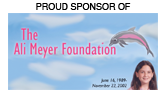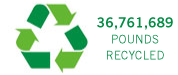 New and Used Office Furniture Serving the Denver, Boulder and Rocky Mountain Region
© 2017 Office Liquidators, Inc. All rights reserved. | Policies & Guarantees | Site Map
Website Design by Denver Advertising